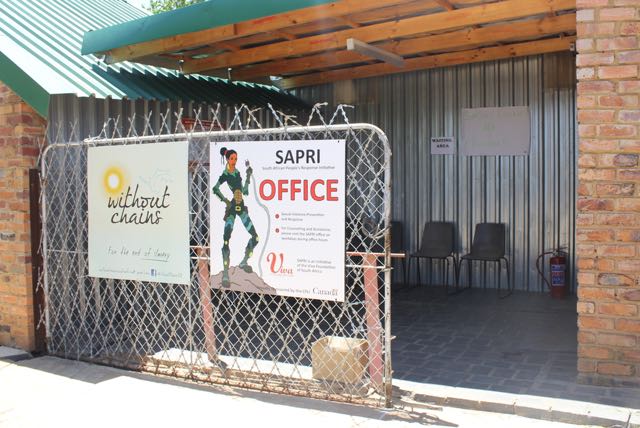 GOAL
Prevention of Sexual Violence, appropriate response to Sexual Violence and Victim Empowerment by distributing resources and materials for the empowerment and building of the capacity of women and girls in underprivileged communities to understand their rights with regards to rape & gender-based violence and to prevent sexual violence.
The SAPRI initiative has brought the incidents of rape and domestic violence among beneficiary households and their neighbours (at least 1000 households) to a virtual halt in the Alaska Informal Settlement, Mamelodi East.  A trial launched in January 2015 and still continuing has seen only 1 case of rape, 1 attempted rape and 4 cases of domestic violence in 24 months.  In the period from January to December 2016 no rape cases or domestic violence cases have been reported.  The community reported approximately 10 rapes per month and 50 % domestic violence in all households prior to the intervention. 
The main elements of the intervention are the prevention of the occurrence of rape and incidents of sexual violence.
In addition to training women and girls, the project is aimed at developing materials to reach men and boys with the message of gender equality and respect for women and girls particularly with regards to gender-based violence and forced marriages.  Training courses, material and resources are developed and customised for different culture groups in South Africa and Rape Response Community Care Workers are trained as trainers.
ACTIVITIES
SAPRI Personal Protection & Community Response – Combining technology for personal protection (panic buttons and an electronic response system) with community response to prevent and respond to incidents of sexual violence and crime in a specific community.
Rape Response Protocol Poster and Booklet – Information flow chart from 'incident' to 'guilty verdict' with matching booklet to empower victims and survivors of rape and other forms of sexual violence, with knowledge to ultimately increase the number of reported cases and the number of guilty verdicts.
Training – To mobilise communities by providing training and information as well as mobilise Community Care Workers;  A course has been developed with 6 modules:
Incident to Guilty Verdict (the process flow of the poster & booklet)
Court procedures
Counseling a Rape Victim
The rights of a Victim
Rape Specific First Aid
The SAPRI System

Activism and Advocacy – utilising different media platforms (printed, broadcast and social media) to maintain pressure on the private and public sector to combat sexual violence. 
This initiative has the potential to deal a decisive blow to the prevalence of rape and domestic violence in high priority poverty areas and can easily be deployed to other areas.  The Viva Foundation is urgently seeking larger grants and corporate sponsorships to replicate the SAPRI System in other informal settlements.  For more information on funding needs, please contact Meleney Berry-Kriel, CEO of the Viva Foundation and Executive Director of the SAPRI Programme. 
DONATE
NOW!
Your
support
makes
it
possible
for
us
to
bring
about
transformation
in
underprivileged
and
vulnerable
communities.